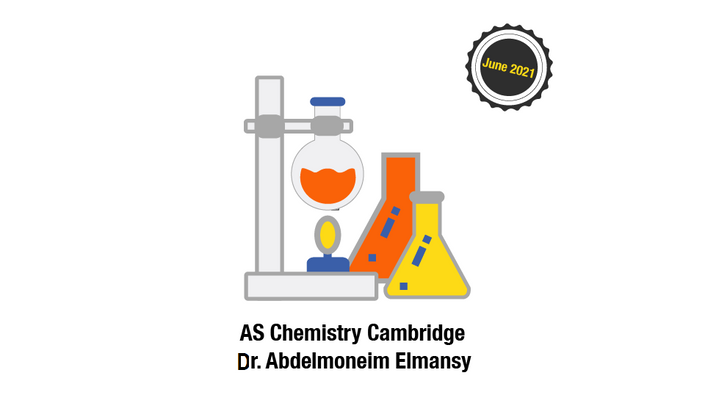 Chemistry AS (P1&P2 Theory) Cambridge November 2021- Dr. Abdelmoneim Elmansy
Subject code (9701) This course starts on 19/6/2021, WhatsApp no. for any information: +201224212935
Watch Promo
Enroll in Course
" Videos every Saturday and Tuesday at 5 pm "
Your Instructor
1- M.Sc and PhD in Nanotechnology of Chemistry.

2- He has an experience O level and A level Chemistry (Cambridge & Edexcel) for more than 15 years in teaching of IGCSE and University, starting with Saint Fatima, Dar El tarbiah IGCSE, Narmer School, Elkanana, MSA University and etc.....

3- Top achiever student in A level Chemistry Cambridge "Marina Saweeras"

4- His team of Nanotechnology is honored by Encouragement State Award.
5- Just tab "A. M. Elmansy nano iron oxide" in Google search" you will find a lot of articles and papers around the world are cited by his researches.

Course Curriculum
Course Preparation
Available in days
days after you enroll
1- Mole and Equations
Available in days
days after you enroll
2- Atomic Structure
Available in days
days after you enroll
Frequently Asked Questions
How do I ask questions?
You could send your question on Whatsapp (+2-01224212935).
Do I get to ask questions?
Of course, once you enroll in the course you will be contacted by our teaching assistant who will answer your questions at any time and follow up on your progress, also you could ask to arrange a live meeting with Dr. Abdelmoneim to answer your questions and re-assure any concerns you might have.
How many times do I get to watch the video?
You can watch them an unlimited number times till the end of the course.
Do I get any exams?
Yes, after each Unit you get a test which is either online or a written test in which you print the exam, solve it and scan it so that it could be corrected and graded within 3 days.
For how long will the course remain available?
The course will available from the minute you enroll in the course till the day of the last exam in October/November session for the subject; after which the course is immediately deleted permanently.
Would I find the whole syllabus videos available once I enroll in the course?
Would I find the whole syllabus videos available once I enroll in the course? No lectures are uploaded gradually in the Dr. Abdelmoneim's preferred order according to the weekly plan to mimic the actual classroom. However once a video is uploaded it remains available to be viewed anytime and an unlimited number of times till the end of the course.
Do I get Homeworks like in an ordinary classroom?
Yes, at the end of each topic you receive a number of questions in the classified to be solved and of course they'll be answered in the next class like in an ordinary classroom.
o I recieve course materials, and what are they?
Yes!! You receive Lecture Notes and Classified past papers as downloadable pdf's to be printed and used along the syllabus, after which Dr. Elmansy will instruct you on the past papers to be used during the revision period.
How to pay for the course?
You could always pay on the website using a credit card or an accepted debit card which is entirely secured by Vidukation's financial team or you could arrange to pass by one of Vidukation offices and pay in cash. Please note that cash payments are ONLY available in Egypt. Contact Number: 0100-760-6560
If I join late do I also pay the full course fee?
Yes because all the classes you missed will be already available and the teaching assistant assigned to you will arrange a study plan to you so that you could catch up with your mates in the least possible time.
Are the course fees refundable?
No they are not, but you have a promo video explaining the whole experience and two topics available in preview with both explanation and classified solving so that you could try the process before you purchase the whole course.